Along the Inca Road
March 18, 2011- Lima to Iquitos
After a good night's sleep we prepared to fly to Iquitos. Breakfast at the Jose Antonio Hotel Lima was a continental breakfast. A highlight, though, was the presence of Mate Coca tea, The tea is suppose to be good for a host of things including altitude sickness. We will find out how good this tea is once we get to Cusco.
The trip through airport security was easy. At least we ddin't have to remove our shoes. The flight left on time and once we were above Lima's marine layer the sky was blue and unlimited visibility. One interesting thing we saw while taxing to the runway were several Russian Hind helicopters used by the Peruvian Air Force.
Russian Hind helicopters on the tarmac at Lima's airport.
We didn't know until we landed in Iquitos that one of six Peruvian presidential candidates was on the plane. He was coming to Iquitos to campaign. We thought all these people and the bands were there to welcome us to Iquitos! Oh well, it made for an interesting entrance into this boom town along the Amazon. In the 1920's Iquitos was one to two towns on this huge river that crew out of the jungle as prospectors looked for and harvested the rubber tree.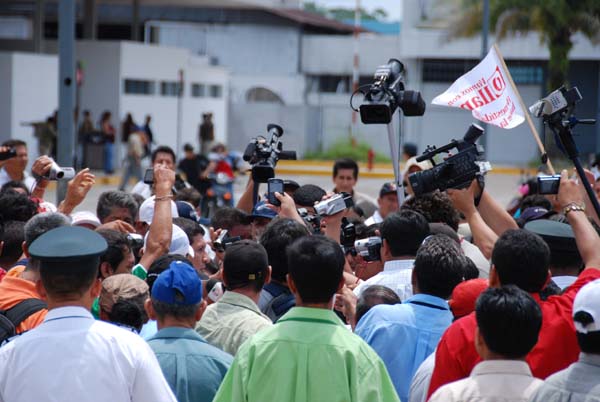 The presidential candidate is the man facing the camera.
The boom lasted for a short time because plants and seedlings were taken to Malaysia by the British to start a new rubber industry. That spelled the end of the rubber boom but by then thousands of indigineous peoples throughout the Amazon Basin were exploited, killed and their cultures wiped out by Europeans looking to cash in on fast money.
Today Iquitos has become an eco-base tourist destination as governments from Peru, Ecuador and Brazil try to walk a fine line of developing resources and still protecting local people and their cultures from extinction.
There are few cars in Iquitos. Most things are moved by these three wheel buggies.
We will spend the next four days a the Explorama Lodge 25 miles downriver from Iquitos. The 45 minute boat ride down the river took us from the hustle and bustle of Iquitos to a primodal rain forest location.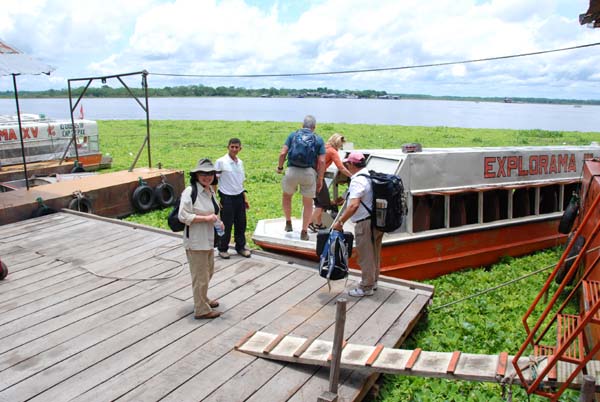 Joan gets ready to board our boat for the trip downriver.
Everything moves up and down the river by boat.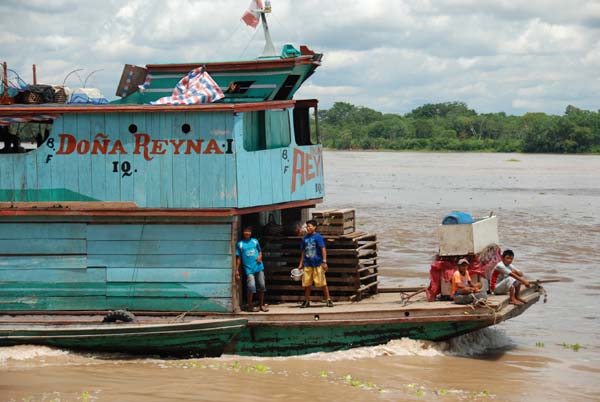 Local color really is colorful.
Back to the Home Page
More Galván Trips & Travel Posts
Copyright 2011 Anthony Galván III