The Perfect Holiday Gift for the Birders in your Family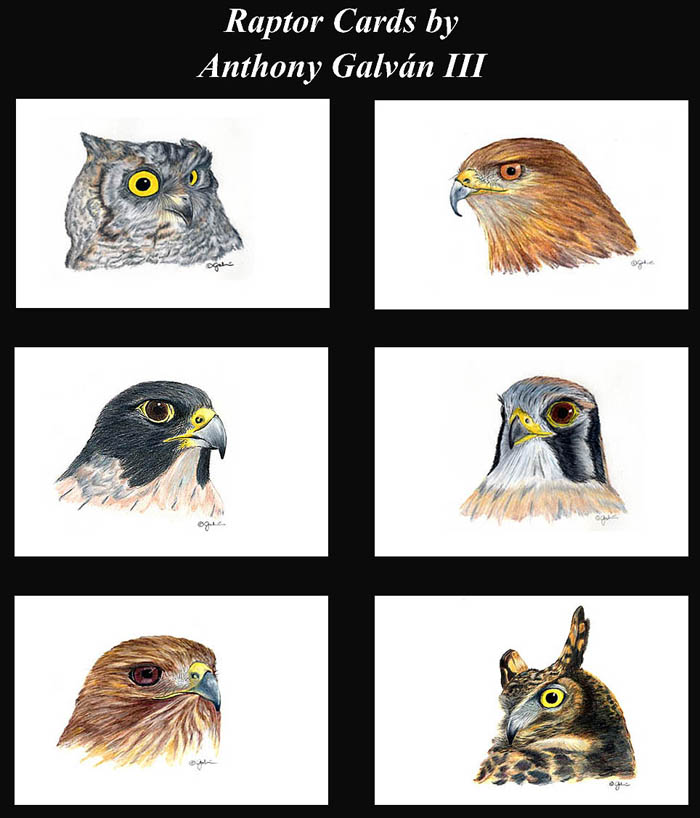 A series of six raptor portraits:

Red-Tailed Hawk
American Kestrel
Red-Shoulderd Hawk
Great Horned Owl
Peregrine Falcon
Western Screech Owl
Cards are printed on a coated stock with envelopes, 4.25 in. X 5.5 in.
A set of 6 cards (one each) $7.00 Free shipping until December 15, 2006
California residents add 7.5% tax.
Please send your check or Money Order to:

Anthony Galván III
252 Old Ranch Dr.
Goleta, CA 93117

For more information contact Tony Galván at 2gatos@dosgatos.com

Have a favorite bird or critter you'd like a portrait of? Contact the artist for commission work information.

For more information on raptors click on the following links: owls or hawks,

Tony Galván is a self-taught artist and lives in Goleta, Califronia.

He has a certificate in Bird Biology from Cornell Ornithology Lab and over seven

years experience working with wildlife rescue and rehab.

Ivan, the Red-Tailed Hawk, was one of the models for his color portrait series.
All images © 2006 Anthony Galván III. Any use requires written permission.
For more information and pricing for illustration projects contact the Artist.
A broader sample of his work can be seen at Science-Art.com.
Member Guild of Natural Science Illustrators (GNSI)
Click on above logo to visit home pages of other wildlife
artists on the Wildlife Artists NetLink.